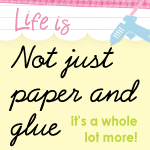 Hi everyone! Tammy here from Not Just Paper and Glue. I want to thank Crafty Mummy for inviting me to stop in today and share some of my projects with all of you.
Not Just Paper and Glue started out in December 2006 as a place to show off my scrapbook pages and talk about some of the fun things that happen around our little farm. Today you will find everything from scrapbooking to cheesemaking, handmade cards to homemade soap, wild flowers to tame sunsets and cool crafts to fresh hot bread – because life is not just about paper and glue; it's a whole lot more!

My goal is to help people feel free to share their creative talents as I try to encourage them along this path in life. I hope you will stop by Not Just Paper and Glue whenever you get a chance. You can also find me on Twitter or Facebook.
Thank you so much Crafty Mummy, for having me as a guest today!
Thanks for dropping by, Tammy!
I'm guest posting today over at Tammy's blog too
so please pop over and say hello!