My fabric stash is overtaking the room! It started in my cute antique dresser. Then it grew into a couple of extra boxes. Then it grew a little more into a couple of baskets. Now I count at least 5 baskets, 4 boxes and the original drawers! There are piles that threaten to topple over when I move around. There are some fabrics that I've washed and some that I haven't; some that I've ironed and some that I haven't; some that I have ear-marked for a particular project and some that I've bought with no plan at all.
Bottom line? I need to sort and tidy and store them all better.
So I turned to my favourite source of inspiration and came up with some ideas.
Shelves
I like the look of shelves but I think I'd go for glass doors on the front to keep off the dust.
Plastic Crates
These are a cheaper alternative and I like that you can see what's in there without having to open every one. Plastic drawers would do the same job. I saw some at the Container Store.
Drawers
Drawers work well to keep off the dust. My fabric in drawers is folded and stored sideways (like in the crates above) so that I can see what's there.
Boxes
I have solid boxes in my room which I can't see into easily. This is a clever box though with slots for CDs – or fabric!
Hanging
This would be a great way to see what you have at a glance. For a quilter, it would serve as a way to match fabrics too.
This file type hanging system is very clever! I can imagine it on wheels ready to slip under the desk when you don't need it.
Folded or rolled?
Most options I found had folded fabric, but rolling fabric onto cards or just into rolls looks great too.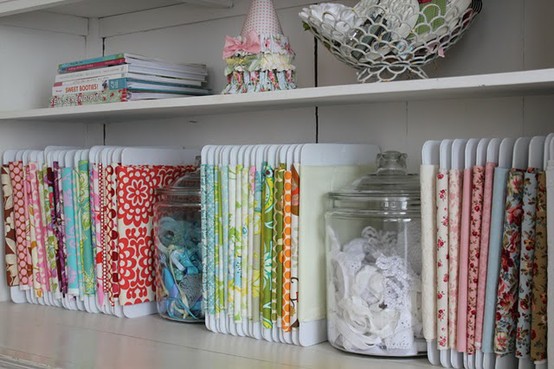 Scraps
I have my scraps currently in an open basket. These pockets hold ribbon scraps but I can imagine this idea working for fabric scraps, sorted by colour into the clear pockets.
Small boxes within drawers keep small scraps sorted in this dresser.
Now that I've found all these great ideas, I just need to get organising!
Hmmm….
Maybe I'll just finish this cuppa… and check my email… and…
Tell me: how do you store your fabric or other crafty supplies? Do they threaten to take over the room?
Note: Each image links to it's original source so click each one to see the original.