Some of my readers may not realise that I live
in Regional Queensland, Australia,
where it is currently flooding in a way we haven't seen before.
My family and I are fine, but there are many who are not.
They have lost property and livestock, and in some cases loved ones.
It is heartbreaking.
You can find more information in many places on the Web including:
Disaster Management Updates
Road Conditions Reports
Qld Police Service Updates
ABC Local Radio
There's lots of footage on YouTube including this one:

You can donate to the relief efforts online at the Qld Premier's Flood Relief Appeal (they are accepting local and international donations there)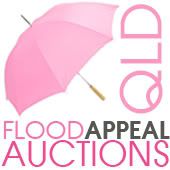 She is encouraging others to do the same
so look for her master list of blogs participating when she has it ready.
Finally if you are in Queensland and in the midst of flooding,
my prayers go out to you.
I hope that you and yours can stay safe.