I posted about this easy strip quilt a couple of weeks back. It was a gift for a special friend of mine. I thought I'd share with you how easy it is – perfect for those of you who want to try quilting!
What you'll need:
4 or more fabrics that look good together
about 1.5m of fabric for the back
about 50cm of fabric for the binding
quilt batting:  approx. 1.5m square
scissors or rotary cutter and mat
sewing machine and thread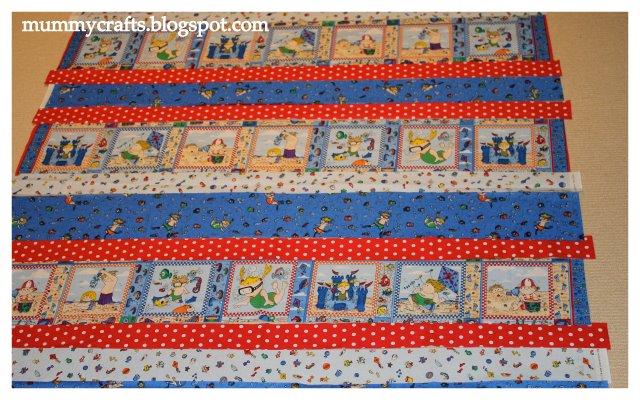 Step 1 – Choosing Fabric:
Part of what makes this quilt easy is that it is the width of your fabric. Most quilting fabrics are about 112cm or 44″ wide. You can see by the edges in my photo that there can be a slight difference in different fabrics but that's fine.
I used 4 fabrics in this quilt but you can use as many or as few as you like. I started with the fabric with the little panels then chose my other fabrics to match that one. You want your finished quilt to be square so your fabrics need to create about 44″ or 112cm when they are pieced together. Each seam (or join) is quarter of an inch or 0.5cm. So 30-40cm of each fabric should be enough.
Step 2 – Cutting:
You are going to cut each fabric into strips. They can be as wide or as narrow as you like. It will look better if some are wider and some narrower.
My panel fabric strips are quite wide (about 6″) to accommodate the pictures. My red strips are quite narrow (about 2″) so they don't overwhelm the other strips.
I like to cut with a rotary cutter and mat because I can get a nice straight cut. You can see a great
video here
to learn this. But scissors will work too. As you cut your pieces lay them out on the floor and you'll be able to see how your quilt will look. Cut and lay until you have a little more than 44″ worth because once you sew them together your quilt will get shorter. Remember you can always add an extra strip or two if you need to.
Step 3 – Sewing the strips
Once you have enough strips and you are happy with the layout, its time to sew them together. Quilters tend to sew seams of quarter of an inch, but in this quilt it won't matter if your seams are slightly larger.
Lay your first two strips right sides together and stitch them together. Use the edge of your sewing machine foot as a guide to stay straight.
Then press the seam flat with your iron. Press each seam as you go along to get a nice finish. I tend to press my seams to the same side, but you can press them open if you prefer.
Keep joining strips until the length of your quilt is the same as the width. If your strips are slightly different lengths, try to keep one side straight. You can trim off the excess edge at the end. Go ahead and cut extra strips if you need them.
Step 4 – Squaring up
You may be able to skip this step, but you'll probably want to even up your edges. You may also need to trim off the selvedges if they are white.
Lay out your quilt flat then fold it in half so that most uneven edge is to the right. Line up the strips so that they are parallel to each other. Then just as you squared up your fabric before you cut your strips, line up your ruler with the shortest strip and make sure its square with the fold. Trim that side straight in one smooth cut. Then spin your fabric to put the other side to the right and trim that one straight as well.
Step 5 – Getting ready to quilt
Cut your batting and backing fabric slightly larger than your finished quilt top – an extra couple of inches on each side is good.
Lay your backing fabric down wrong side up, then lay your batting on top, then finally your quilt top with right side up. The quilting will join the three layers together. But you need to keep them lined up.
Some quilters use pins to "baste" them together, others use big stitches. I use basting spray because it is quicker. This video gives a great explanation of how to do that.
Step 6 – Quilting
The quilting is what holds the three layers together. I've kept the quilting super simple on this quilt.
You'll need a walking foot to get the best result. Check out this video because she knows heaps more than me!
Start at one side of your quilt and stitch across the strip. You don't have to go perfectly straight – in fact, I deliberately did slightly wavy lines on mine. When you get the other side, leave the needle down in the fabric and turn your quilt so you can go along the edge about a quarter-inch in. Sew along the edge to where you want to start your next line then turn again and go back across the quilt as before.
Keep going until you've covered the whole quilt. Your lines can be close together or further apart, but you don't want gaps much more than about 4″ or 12cm or the batting might shift when it's washed.
Once you've finished quilting, you can trim off the extra fabric around the edges. I tend to leave quarter of an inch of batting all around, but my friend Di trims hers to the edge of the quilt top, so either will work.
Step 7 – Binding
I was going to write instructions for this but this YouTube video gives such a clear explanation. It tells you how to cut the strips, how to iron them, how to attach them to your quilt, how to get the corners nice, then how to hand stitch the back of the binding.
You're done!
Enjoy your new quilt.
Questions? Need help? Please ask in the comments below and I'll try to help you.
Want to try quilting and patchwork? Check out this free Craftsy class to get you started (Affiliate link)