I recently shared some crochet from my Great Grandmother that my Mother received. Today I'm sharing some more treasured pieces. These were made by my Grandmother.
This round doily is another large one. It is done in fine Perle Cotton in a soft cream. I suppose those light colours were guaranteed to look lovely on timber tables, which is where my Mum always displayed them. The edge of this one is a slightly darker colour. Mum said it was probably one of the last doilies she received from Nana and that perhaps she hadn't realised that the cotton was a different colour. She continued to make these into her eighties, I believe, so her eyesight was not so good.
This runner is white rather than cream. When I was in my teens, Mum and Dad bought a beautiful shiny black upright piano. Mum asked Nana to make a runner to sit on top and and it still sits there. Unlike the doilies that are worked from the centre, going around and around, this rectangular runner is worked from one end to the other. It is still worked in Perle Cotton but this is not as fine as the previous doily.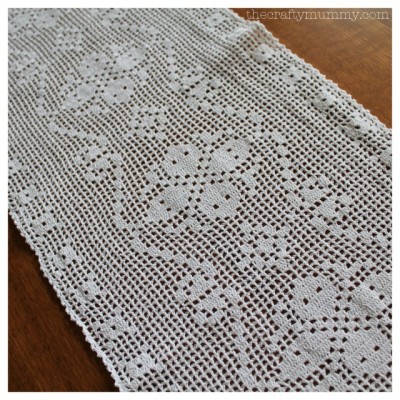 It measures about 130cm long and about 30cm wide. At one stage Mum used to have a simple white statue sitting on top of it, but later my brothers and I had our trophies on top of the piano. I added a pencil holder and a metronome when I was teaching piano students during my University years. These days there are photos of Mum and Dad's children and grandchildren gracing the piano top.
Do you have memories of handmade things from your childhood?