If you are doing the Farmer's Wife 1930s Sew Along, you might realise that the next block is the Aunt block which I haven't posted yet. My Aunt block is still not quite finished – I'm trying English paper piecing for the first time – so rather than wait to post them in order, today I'm jumping the Aunt block and sharing this one, Betty. It is number 14 in the book and number 4 in our sew along series. I'm really pleased with how this Betty turned out even though I'm not generally a fan of yellow and orange. I tried to stay with similar colour placement to that in the book apart from adding my rainbow print and I' think this works..
Oh, I love the letter that accompanies this block! It is all about a lady and her husband who persisted with learning to play the piano and the violin despite being adults when they started and only having a relatively small amount of lessons. She speaks of the joy of music and how rewarding that skill has been to master.
You may not know that I play the piano too, and was very fortunate to have lessons from the age of 8 until I left high school. I sat a bunch of exams and got to a level where I could teach students as my part-time job while I was at university. This was much better pay than my second part-time job at the time working in a department store, but with the two incomes I was able to pay my way to live in Japan for a year to study the language after I graduated. One of the first items of furniture my husband and I purchased together when we married was a piano so that I could continue teaching, although I suspect my mother loved those first couple of months when I was going home a couple of times a week to continue teaching my students on her piano! We still have that piano although it is not played as much these days, and like Music Maker in the letter I play regularly for our church services. My kids have started learning musical instruments too and I'm waiting for the day when I can play accompaniment for them.
Tips for the Betty block
My tip for this block is about pressing the seams.
You can see here below the back of my half square triangle units. You might notice that some of the seams have been pressed to one side while others are pressed open.
Generally when I'm creating patchwork blocks, I press my seams towards the darker fabric. In the first couple of steps of this block, that was what I did. Often this helps to make the points match better as the seams lock together – read more about that here. But on the final seam, I pressed the two sections open instead. Because these blocks are so small, this unit was only a couple of inches big and it is still to be joined to the other units to create the block.
Remember these finished blocks are only 6.5″ so having this many seams in one small block creates quite a lot of bulk. Pressing some seams open, distributes the fabric bulk more evenly so that the whole block lies flatter in the end.
There is no right or wrong way to press seams and there are lots of opinions out there, but hopefully this gives you some ideas of what might be best. For me, the most important thing is to try to get the block laying nice and flat at the end, and using side-pressed seams when they can help match the points better.
Tutorials for this block:
Don't miss out on a special discount at Fat Quarter Shop, and if you're still looking for a copy of the book, a digital book is now available that you can download immediately. Find it here: Farmer's Wife 1930s Sampler Quilt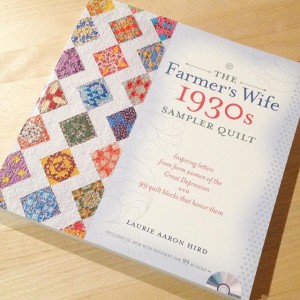 eBook also available: Farmer's Wife 1930s Sampler Quilt