Time for another Farmer's Wife block and this one combines two of my favourite things – stars and rainbows. The Coral block is number 24 in the book and number 7 in the Sew Along.
I had fun making this one – especially fussy cutting the rainbow stripes. I used Set A of Marti Michell templates which made getting the corner blocks to have stripes on the angle quite easy. I also loved the way the templates fit together so nicely. The way the corners get clipped is very clever.
The letter with this block made me smile. "Love them while we can." It is all about cherishing the time we have with our children while they are young. My life right now is to some extent based on this concept. Mr Crafty and I always said that when we had children, I would stay home and look after them rather than working. This has changed a little this year but my kids are in upper primary school now so they are not at home all day and I only go to work when they are at school. I still spend time in their classes when the teachers request helpers and we spend all our afternoons and morning together, making sure homework is done and musical instruments are practised, going to lessons and just hanging out at home. This time is special and I know it is short so I must remember to treasure it.
Quick Tip for this Block
I am really loving working wit the Marti Michell templates so my tip today is related to them: Make sure you clip the corners according to the templates.
The first couple of times I used them I couldn't understand why I needed to create those fiddly little corner cuts and they created all these tiny messy bits all over my cutting board! But once I cut them and started piecing the shapes together, I could see her genius at work. The shape of the corners means that you have a guide for lining up the pieces and getting them to fit together just right.
It is so worth the time and effort on the careful cutting!
Tutorials for this Block
Don't miss out on a special discount at Fat Quarter Shop, and if you're still looking for a copy of the book, a digital book is now available that you can download immediately. Find it here: Farmer's Wife 1930s Sampler Quilt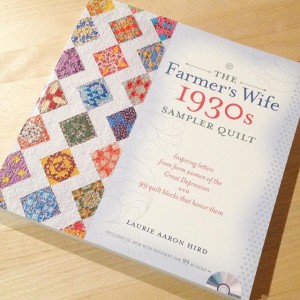 eBook also available: Farmer's Wife 1930s Sampler Quilt