Time for another Farmer's Wife block – this one is called Katherine. It is number 9 in the Sew Along with Gnome Angel and Fat Quarter Shop and number 49 in the book.
I'm not sure that I like this one. The rainbow stripes the sort of L-shaped sections look a little odd to me. I'm wondering in hindsight whether I would have been better to put the rainbow stripes where the purple pieces are and then using something with a less directional print on the current rainbow sections. That would have created an impression that the L-shape was all one piece rather than obviously being two.
But these are the things you learn when you create blocks. Over time it becomes easier to foresee these sorts of things as you are deciding on fabric placement. I still have a lot to learn!
Tips for this Block
I used the Marti Michell templates for this block and her method for cutting as well. Find it here – click on text that says "Conversion Chart 8" towards the bottom of the post.
My other main tip, as I mentioned above, is to think about fabric choice when two pieces may look like one in the finished block. Sometimes you may want them to look like one piece and other times you may not, so it pays to have a good look at the block and think about that before you cut your fabric.
Tutorials:
Don't miss out on a special discount at Fat Quarter Shop, and if you're still looking for a copy of the book, a digital book is now available that you can download immediately. Find it here: Farmer's Wife 1930s Sampler Quilt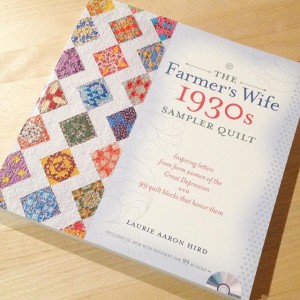 eBook also available: Farmer's Wife 1930s Sampler Quilt