The Old Maid block is number 8 so far in the Farmer's Wife 1930s Sew Along and number 78 in the book. I'm not sure I like this one but that could be because I played with the colours to include my rainbow feature fabric. The original colour scheme was just two colours. My block has a rainbow running through the centre of it – either horizontally or vertically depending on which way you place the block. I did try placing it on pointe but it just looked wonky.
I created the centre section of this block when I create my Caroline block using Alyce's method to create a quarter square triangle. You can find it in her eBook here: DIY Block Design.
The rest of the triangles I created using Marti Michell templates – you can find her notes here.
The letter for this block, found on page 84, talks about a woman who gave up her job in the city to go back to the family farm and look after her father and brothers when her mother passed away. She talks about how she felt about the change in her life's work and how she came to terms with it over time.
It reminded me that we sometimes do rail against changes in our lives, wanting things to be one way when they must become another way. But time is a great way to change those feelings. If we can just wait it out and work through it, eventually we can see things very differently. I've seen that already in my own life and I'm sure it will happen again.
Tips for this Block:
Be careful of the edges of the pieces in this block. By necessity when you cut triangles at least some of the edges will be on the bias of the fabric rather than on the straight grain of the fabric. These bias edges can stretch very easily and then the shape of the piece becomes warped. I heard a very experienced quilter telling a class of ladies last weekend that they should not cut their squares into triangles until they are ready to piece them so that they have the least possible time to stretch. Each time we handle our pieces they could stretch so we need to take care if we want to end up with perfectly pieced blocks.
Tutorials:
Don't miss out on a special discount at Fat Quarter Shop, and if you're still looking for a copy of the book, a digital book is now available that you can download immediately. Find it here: Farmer's Wife 1930s Sampler Quilt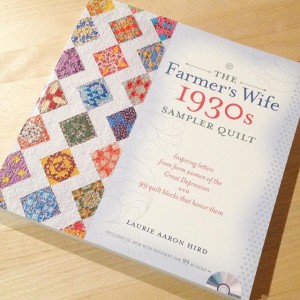 eBook also available: Farmer's Wife 1930s Sampler Quilt