The Milly block has been waiting for me to share for a while now. It is number 62 in the book and was number 12 released in the FQS Farmer's Wife 1930s Sew Along. It was released at the same time as the Margaret block.
Again I played with the colour scheme on this one to incorporate my rainbow fabric and it think it came up nicely. I used the Marti Michell Templates Set A for all these tiny triangles – check out here tutorial for some tricks for cutting them easily in pairs. They are super easy to match with the clipped corners.
Tips
My tip for these triangles is keep checking on your placement as you go. I found I had to unpick some of mine when I matched the wrong ones the wrong way – although it may have had something to do with being distracted by all the conversations on Creative Craft Retreat!
Tutorials for the Milly Block
If you're still looking for a copy of the book, a digital book is now available that you can download immediately. Find it here: Farmer's Wife 1930s Sampler Quilt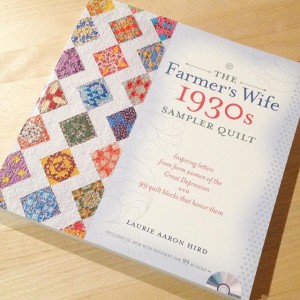 eBook also available: Farmer's Wife 1930s Sampler Quilt