Are you not sure where to start with crochet? I remember that feeling.
I learnt to crochet sort of as a child but it had been years when I decided to pick up a crochet hook and ball of yarn again. When I learnt the first time, I learnt to make doilies with fine cotton thread – perle cotton. When I wanted to have another go as an adult I wanted to try blankets and scarves – things that we could use around the house . I'm a practical soul!
I could find lots of tutorials for projects online but not many articles telling what tools I would need to get started. So today I want to give you the basics so you too can have a go at crochet without spending a fortune.
Basic Crochet Tools to get Started
Crochet Hooks
Hooks come in a bunch of different sizes and you need different sizes depending on the thickness or weight of your yarn. You can buy individual hooks at craft stores but I think you can't go wrong with a set of hooks in a variety of sizes. Look for comfortable handles on your hooks. The plain metal ones can hurt your hands after a while so thicker plastic or wooden handles will be more comfortable. I use a set like those above with bamboo handles that are kind of flattened, but I'm very tempted to buy a set with larger shaped handles.
Scissors
Any scissors will be fine to snip your yarn, but if you are going to be taking your projects with you out and about, you may want to invest in a small pair of scissors that fit into your crochet bag. These scissors are great because they have a little cap on the tip that will stop them from piercing the fabric of your bag or damaging your project. I have a very similar pair that stay in my crochet bag.
Yarn Needles
When you finish a crochet project you will usually need to stitch the ends of yarn into the project to stop it unravelling. To do this you will need a yarn needle with a large enough eye for your yarn – bigger than a normal sewing needle. There are both metal ones and plastic ones available with the plastic ones generally having a larger eye so I'd recommend them if you are planning to use chunky yarns.


Stitch Markers
This last item is optional but useful: stitch markers. These are little clips that you can use to help you keep count of your stitches or mark where you started a pattern. I'll be honest and say I don't have any of these. I prefer to work on patterns that are simple enough to not need marking. But I know plenty of crocheters who just find it easier to mark their stitches instead of having to count again and again like I sometimes have to! Again there are different types of these so browse around and see what catches your fancy.
Learn to crochet with these beginner tutorials: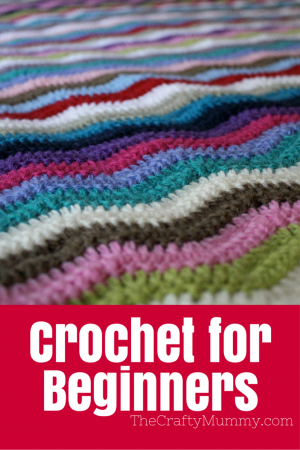 More Crochet Tutorials