After having a lovely week away with my family in the week that the Farmer's Wife 1930s Sew Along started, I was keen to get started on the first few blocks this past week.
I've got some special fabric picked out, but I was inspired to start with some special rainbow themed blocks instead. I probably won't make a whole quilt in these rainbow lovelies, but with my 31 Days of Rainbows in October I just couldn't resist making some of them with a rainbow theme and getting a feel for the process before cutting into my beautiful fabric.
This first block is called Becky and it is easy enough to rotary cut the pieces. It is number 12 in the book and the related letter – on page 45 – is so in line with my thoughts recently that it is a little eerie. The idea of living life to the full and not merely existing has been brought back home to me over the school holidays when Mr Crafty had time off work as well. It was just so nice to enjoy time together and reconnect as a family. I know that I need to try to keep us all connected more as we go back into the busy end of the year and this letter echoes that idea.
My Tips for the Becky Block
Watch the quarter-inch seam allowance. This block is easy to piece but if your seam allowance is out, the finished block will not be the right size. I use a quarter-inch foot on my Pfaff machine but I still needed to check my seams for accuracy.
Think about the orientation of your blocks and fabric. The images in the book show blocks as squares but the quilt suggestions put the blocks "on point" as diamonds instead. You may want to think about which way you are going to use your blocks in your quilt up front so you can make sure you're happy with the orientation of your fabrics.
Press your seams as you go. It will help the sections fit together properly. I used my Clover finger presser for the small seams but the iron does a better job on the larger pieces. Pressing the seams will help with the accuracy of your block.
Tutorials for this Block:
Did you make the Becky block? Do you have any tips to share for others?
Leave a comment below – and thank you!
Don't miss out on a special discount at Fat Quarter Shop, and if you're still looking for a copy of the book, a digital book is now available that you can download immediately. Find it here: Farmer's Wife 1930s Sampler Quilt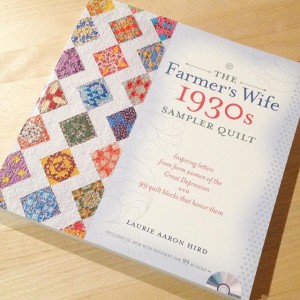 eBook also available: Farmer's Wife 1930s Sampler Quilt