I was so excited when I finished this block. I just love how the fussy cutting of the corner squares turned out.
This is block 13 in the Farmer's Wife 1930s book but block 6 in our sew along series. Find the rest of my blocks here. I wasn't sure I would enjoy creating such small blocks and all so different but I'm finding that I enjoy the challenge and the quick finish that these blocks are providing. So far they have all been an afternoon's work – apart from the one that I'm STILL paper piecing! (Check out my progress on Instagram.)
The letter that goes with the Belle block is on page 158 and talks about a family Christmas celebration. Our family is somewhat scattered these days so I could relate to the writer talking about family coming together to celebrate. Our family Christmas is one of the few times that we all get together each year so it is very special. This letter also has a fabulous idea for exchanging gifts in a large group – but I think we'd have to set our spend limit a little higher these days!
The tricky thing about this block was the Y seams or set in seams. I used the Marti Michell templates to cut my pieces and machine pieced them. However I didn't divide any of the squares as suggested by Marti. Instead I made things hard for myself! You can see above how I created two halves then joined them. I found the Y seams fiddly but just took it slowly and carefully.
Quick Tip: If you join the pieces as I did, press the seams between the house shaped piece and the large square piece in opposite directions so that the seams will nest nicely and create a neat point in the centre.
I found this Youtube video from Jinny Beyer helpful too:
If you find them too hard, Ms Midge has a tutorial to make this block using foundation paper piecing, and Gnome Angel has a tutorial with slightly modified pieces to make them easier to join. See the links below.
Tutorials for the Belle block:
Don't miss out on a special discount at Fat Quarter Shop, and if you're still looking for a copy of the book, a digital book is now available that you can download immediately. Find it here: Farmer's Wife 1930s Sampler Quilt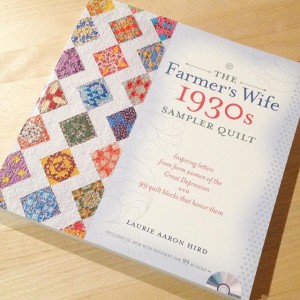 eBook also available: Farmer's Wife 1930s Sampler Quilt