Oh my. I am loving the challenge of the Farmer's Wife blocks – and I expect them to get trickier. I haven't done such small blocks with so many pieces before but they are so cute. This Caroline block – number 20 in the book and 5 in the series with GnomeAngel- has a bunch of pieces but I really enjoyed making it. I pieced it using squares to create the various triangles in pairs which worked beautifully except for one join. Can you spot it?
The letter for this block touched a chord for me. The writer talked about seeing the wonder in the everyday things around us and remembering how special these things are.
It is so encouraging when you spot an "everyday wonder" of life. Life is busy so we don't always spot them, but when we do, wow! For me, the best wonders are when things just fall into place in the best of ways. I call these the God Things. Those things that when I look back I figure only God could have made it happen so perfectly. I remember once I ran into a friend in the shops one day that I had been meaning to catch up with. I had heard that her husband could do odd jobs and we had some stuff that needing fixing but no skills to do it ourselves. Turns out he was between other jobs that week so the timing was perfect. Then when he came he was able to do another job as well which had been hanging over our head for months without a solution. Just so perfect. A few weeks later the jobs were done, we could give the payment to a friend instead of a stranger, and our husbands had got to know each other little better as well. My friend and I totally agreed: it was a God Thing.
My Tips for the Caroline block
Back to the Caroline block: I wanted to share the tool I used to create the half square triangle units in this block.
Half square triangle (HST) blocks are created when two triangles are joined to make a square block or unit. While it might seem that you could just cut a 2 squares in half then join the alternate halves to make a new square, some of the original square gets lost in the seam allowance so you need to start with larger squares than the finished HST unit. I'm sure if you google you can find the maths to work out what size squares you need to start with but happily there is an easier option. Alyce at Blossom Heart Quilts created a chart with measurements for creating HSTs – find more info here. It is also included in her new eBook along with lots of other information for designing your own quilts – find more info here. I bought the eBook a couple of weeks back and it took me less than five minutes to check the chart and find out the size to cut my different squares to create my HST units. So easy!
Note: This is not a sponsored post and I bought my copy of the book. The opinions are entirely my own.
Tutorials:
Don't miss out on a special discount at Fat Quarter Shop, and if you're still looking for a copy of the book, a digital book is now available that you can download immediately. Find it here: Farmer's Wife 1930s Sampler Quilt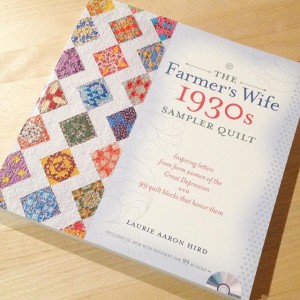 eBook also available: Farmer's Wife 1930s Sampler Quilt