I love this Bonnie block! My starting point was the rainbow fabric that I also used in my Becky block but I also love red and light blue together so this ticks that box as well. All of these fabrics came from my stash so I can't tell you which designers or stores they come from, although I believe the blue fabric is a remnant from this sunglasses case project.
Somehow when I went to take photos it just cried out to be on point so even though I haven't decided how I finally set my blocks, I took the picture on point so the square became a diamond.
The letter associated with the Bonnie block – found on page 136 – talks of watering the soul with lovingkindness. It is reminder for me who seems to often be caught up in the busy stuff of life so much that I lose sight of others around me. A kind word to the people I come across in my days can make such a difference, I know, and yet I often forget to take that moment to encourage a friend or hug my family or chat for a few minutes with another parent on the school run. This week I'm going to try harder to grab those small moments to touch base with others and perhaps brighten their days as well as mine.
A Bonnie Tip
Have you been squaring up your blocks after you finish them?
If you're lucky they will be almost perfect, depending on which method you have used to piece them, but when you rotary cut and machine piece like I did for this one, they often require a quick trim at the end to make them square.
I wrote a tutorial all about squaring up blocks here:
Tutorials for this Block:
Don't miss out on a special discount at Fat Quarter Shop, and if you're still looking for a copy of the book, a digital book is now available that you can download immediately. Find it here: Farmer's Wife 1930s Sampler Quilt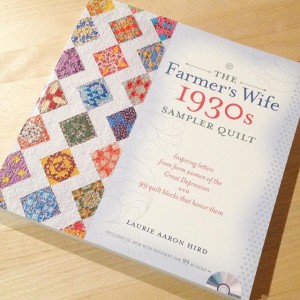 eBook also available: Farmer's Wife 1930s Sampler Quilt