I FINALLY finished my Aunt block.
Phew.
The Aunt block was number 3 in our Farmer's Wife 1930s Sew Along and it is number 8 in the book.
This one has been a long time coming – I started it weeks ago but just couldn't stay motivated. You see, I decided that I would try a piecing method I had never done before, you know, to challenge myself to try new things – something I seem to be constantly encouraging my kids to do.
But I really didn't enjoy this method AT ALL. It was sooooooo sloooooow.
Now I knew from the get go that I'm a person who likes to finish quickly. I like to get on with it and have something to show for my labours. This block just did not give me that satisfaction.
Let me explain. I chose to try English Paper Piecing, a method that cuts all the patchwork pieces out of cardboard then wraps the fabric around them before stitching them together by hand. There are a couple of ways to attach the fabric to the pieces but I chose to try the gluestick option. It was kinda messy. Sigh. That was the start of the end I think.
The actual stitching wasn't hard, just slow. I used my Clover clips to hold my pieces in place and gradually joined all the bits. It was a great project to take with me to afternoon activities with the kids. Although even my friends outside dance class were surprised to find me still working on the same block after so many weeks!
The tiny stitches are nearly invisible. There are lots of tutorials out there on how to do this. I found at first my stitches were not tight enough and when I unfolded the seam there was a gap so my tip would be to make your stitches quite tight.
The block ended up very accurate too so I can understand how it is a popular method.
At the end of the day, I won't be making any more of my blocks with this method I don't think. It was good to learn and try though, and if you like to take your projects with you, this would be a great way to go.
Tutorials for the Aunt Block
Don't miss out on a special discount at Fat Quarter Shop, and if you're still looking for a copy of the book, a digital book is now available that you can download immediately. Find it here: Farmer's Wife 1930s Sampler Quilt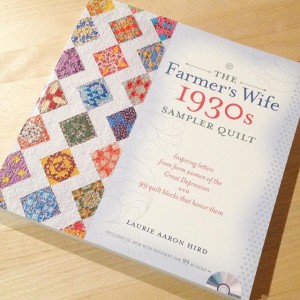 eBook also available: Farmer's Wife 1930s Sampler Quilt
Perhaps I need to take this new Craftsy class: