The Margaret block is another in the Farmer's Wife 1930s Sew Along. It is kind of similar to the Milly block so it was released at the same time. It is number 57 in the book and 14 in the Sew Along series.
I used the fabulous Marti Michell templates to make this one – I'm still loving these!
But can you spot the problem? 
Sigh.
I just spotted it as I was writing the post to go with these photos.
The centre of this block is wrong! Oh no! How did I not see it earlier?!
Now I'm going to have to do some fixing.
But you know what? I'm going to post this version anyway – obviously since you are reading it. It is now the "Almost Margaret Block".
Today's Tip:
Check your block is correct before you take photos for your blog post. Yep, talking from experience.
Tutorials for Margaret Block
Don't miss out on a special discount at Fat Quarter Shop, and if you're still looking for a copy of the book, a digital book is now available that you can download immediately. Find it here: Farmer's Wife 1930s Sampler Quilt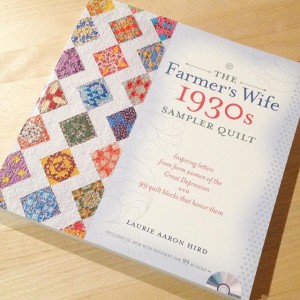 eBook also available: Farmer's Wife 1930s Sampler Quilt