It has been a busy school term here at Crafty HQ – you've probably noticed that I haven't written very much!
Among the many things going on here has been a trip to the hospital for day surgery on my girl's teeth. A couple of her teeth were not going to come down naturally so the surgeon popped in to uncover them and she now has an orthodontic device helping bring those teeth down into place. It all went well and the medical staff were amazingly patient and kind. (I was reminded again how lucky we are to have medical treatment available here in Australia but that's another story.)
As the Mum, it meant I had a couple of hours of sitting around outside the theatre area, just waiting. And waiting. And waiting.
And waiting.
Happily, I got a lot of work done on my crochet ripple blanket. I also had plenty of thinking time to come up with some more ideas of items you could take to make in a waiting room.
5 Things to Crochet in a Waiting Room
Start a Blanket
A blanket can get pretty big and bulky pretty quickly so I don't often take them to waiting rooms, but the start of a blanket is only small. Most blankets I make are the type where you do a long chain then work back and forth across the width of the blanket. This type of blanket is easy to take with you in the early stages. Another type of blanket that would be easy to carry with you would be a granny square blanket made up of small squares – you could just take the square you are working on. Check out this class on Craftsy to learn the basics of crochet including granny squares:
Check out this class on Craftsy to learn the basics of crochet including granny squares: Crochet Basics & Beyond (with Kim Werker)
Try these blankets for inspiration:
Click on the images to read more
Scarves
Scarves are perhaps my favourite item to crochet in any waiting room. They are never going to grow too big to shove into a bag and you often only need one or two balls of yarn so they are small to carry. For an interesting scarf, try using a ball of variegated yarn – a yarn that is more than one colour. That way you can get the look of multiple colours without having to actually change yarns. (Not that changing yarns is that tricky – see my tutorial here.)
Try these scarves for inspiration:
Click on the images to read more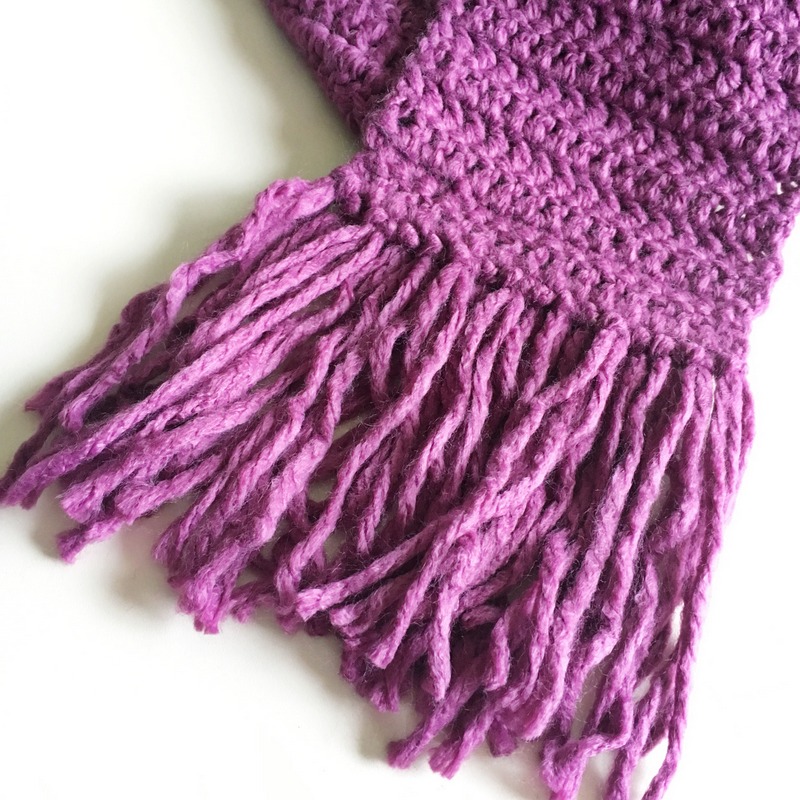 Hats
I must admit that I have not crocheted many hats but I know people who find these easy to take with them when they are out and about. Whether they are beanies in your favourite team colours or baby caps in soft pastels, there are lots of patterns and tutorials out there to make hats. Search for free tutorials and patterns, or you could take a Craftsy class: Crocheting in the Round: Mix & Match Hats (with Stacey Trock)
Check out my Pinterest Crochet Board for ideas
Leg Warmers
Earlier this year I made a couple of pairs of leg warmers for my dancer girl and they would be great projects to take with you while you are waiting. Mine only used one ball of yarn for each leg so they are easy to tote. Just remember to keep both leg warmers together so you can make sure you crochet them the same length!
Click the pictures above to find my tutorials for leg warmers
Small Toys and Decorations
One type of crochet that I haven't tried yet but that I've seen a lot of around the web is Amigurumi. These are small toys made of crochet, usually animals or dolls. They are so cute! A couple of my favourite Instagram accounts are those of amazing amigurumi makers including A Menagerie of Stitches, Maria Rosko, and Mohu Store.
Read more about Amigurumi crochet here.
You can also make small decorations using crochet. I collected a bunch of Christmas crochet ideas one year but you can create bunting in crochet or doilies to decorate tables. I've seen lots of cute crochet bags around lately too.
Any small project can be a great project to take with you to a waiting room really!
Tell me, do you crochet in waiting rooms?
What kinds of projects do you work on?