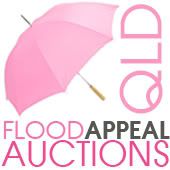 This auction is now finished.
Congratulations to Ballarat!
in Queensland at the moment.
I am auctioning this gorgeous bag in Japanese fabrics.
I made it last year as a pattern tester for The Craft Barn
It is approximately 15″ x 13″ (38cm x 32cm)
with a shoulder strap with about a 20″(50cm) drop.
It has an outside pocket with a flap over it,
plus a zippered pocket and two other pockets inside the bag.
It is made from 100% quilters cotton
making it fully machine washable.
Please give generously to help those who need it.


How this auction works: (Thanks to Toni for these details)
1.  Bidding will start at $20 (Australian). 
2.  You can place a bid by leaving a comment on this blog post with your bid amount and email address.  Please make sure that your bid is higher than the previous bidder.  
3.  Your bid must be in whole dollar increments.
4.  This auction is open to everyone, however $20 will be charged for International postage.  Postage is FREE for Australian residents. 
5.  The auction begins NOW and will END at midnight on Monday 24th January 2011. (my Australian time)
6.  At the close of the auction, I will contact the winner (please make sure your bid comment includes your email address).  The winner will pay the winning amount directly into the Premier's Flood Relief Appeal and send me proof of payment via email.  Once proof of payment has been received, I will post your item.
7.  Thankyou for participating and happy bidding!


You can also check out my other auction for a baby quilt.