See how I made a simple costume for Obi Wan Kenobi from Star Wars for our kids Book Week day. It would also be great for a Halloween costume.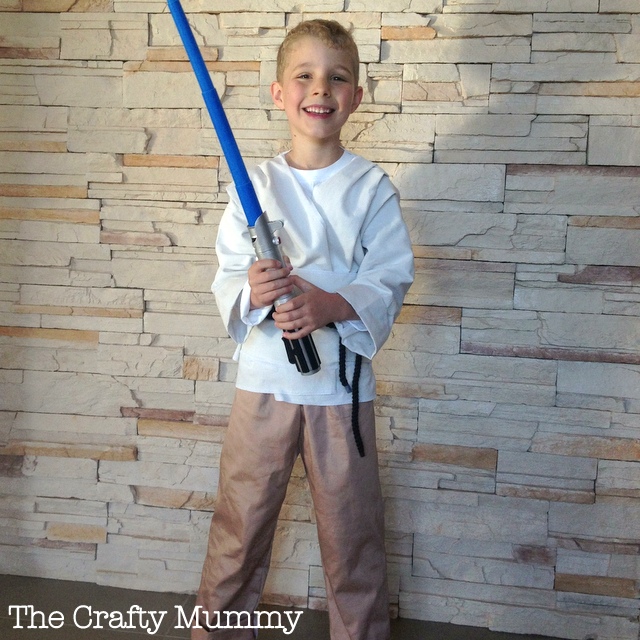 Each year my kids celebrate Book Week at school by dressing up as a book character. Some years my younger child has not wanted to dress up at all but this year he declared a couple of weeks ago that he wanted to go as Obi Wan Kenobi from Star Wars. So I checked out the books and looked up some pictures from the movies online. I decided a pair of pants, a loose top over a Tshirt and a brown cloak would do the trick. I figured it was really about his light sabre anyway. (I secretly think the Year 2 boys had this idea that if they all came as Star Wars characters they could all play with their light sabres at lunchtime!)
Anyway, I headed to Spotlight to find cheap fabric and come back with some basic poplin for the pants plus some cream cord fabric that was on the throw out table for a couple of dollars a metre – perfect! I had some brown left over from the recent convict girl costume for the cloak.
The cloak was the easy bit so I did that first. One big rectangle with the ends folded in then some shape cut into the top and seams stitched. Feeling good!
The pants were cut by laying a pair of pyjama pants on the folded fabric and cutting. I don't really sew clothes all that often so I don't have any patterns, even for the basics. Luckily I learnt a little dressmaking by observation when I was a teen and Mum made almost everything I wore. So I cut panels and sat at my new overlocker to stitch them up.
All done!
Expect that one seam was the wrong way so there was no right way and inside out – just all wrong side out!! Sigh.
Out came the unpicker and I unpicked 4 thread overlocking stitch. Sigh.
Oh well. I got it right in the end and they were left to be hemmed later when my boy was home to try them on.
The top was my biggest challenge. I spent ages thinking through rectangles and pleats at the shoulders and sleeves. There was more unpicking while I worked out how to attach the sleeves properly, and dodgy seams where I couldn't work out how to turn a corner on an overlocker! But eventually, I was pretty pleased with the results – and posted to Instagram of course!
But the real test was when my Boy (often known here on the blog as Mr Happy) came home from school to try on these wonders. I thought he'd be thrilled.
He was not that happy. More sighs. And a few tears… from Mummy! But eventually we settled our creative differences and by the next morning, there was also a belt and a bit of black cord to hold it all together.
Phew! Thank goodness the Force was with me!
Tomorrow I'll share the costume  made for my Little Miss: Find it here: Maid Marion
Summary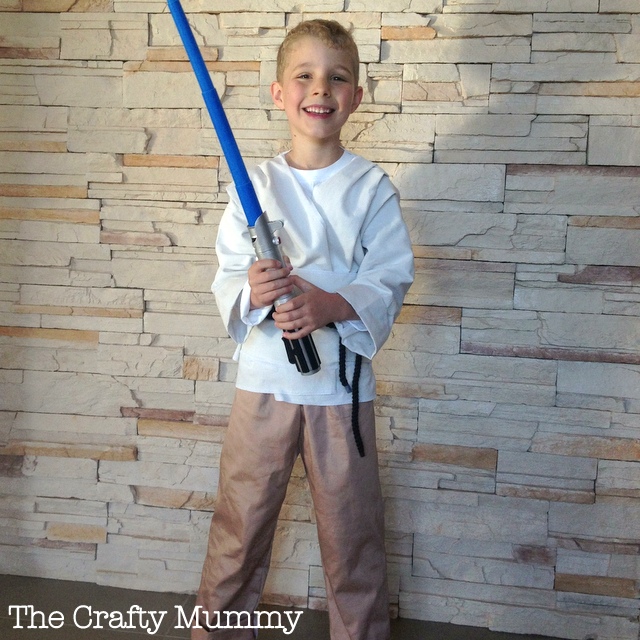 Article Title
Description
See how I made a simple costume for Obi Wan Kenobi from Star Wars for our kids Book Week day. It would also be great for a Halloween costume.
Author