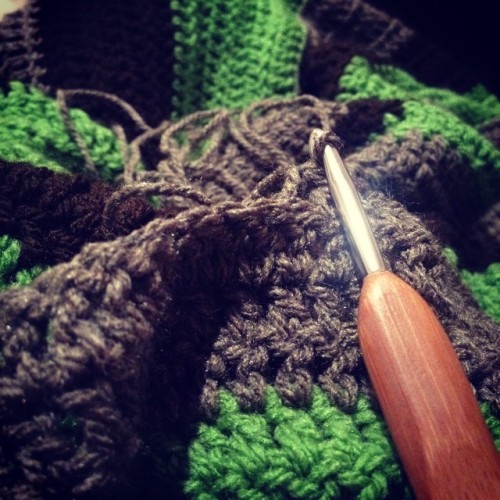 Remember the blanket I started to crochet last year for the And Sew We Craft Crochet Along? Well, it is still growing slowly and with the cooler weather at our place recently I have done quite a lot of work on it. I still love the mix of colours on this one – lime green, chocolate brown, and stone. They are such a comforting look together. I noticed last night as I worked on it that it is long enough to cover my toes now – bonus!
You might remember that this blanket is very easy – suitable for beginners or more advanced crocheters. You will find most of the tutorials over on And Sew We Craft, where I also write each week:
Getting started (tutorial for the crochet stitch)
What to do if your blanket is curling
If you've been thinking of started a simple blanket then this could be the one for you. My current goal is to complete a row each day. I'm up to 88 rows now and with sick kids the past couple of days I have done more than one row a day this week!
Keep an eye out on Instagram for more progress shots.

More of my Crochet Projects
Rainbow Crochet Blanket Tutorial
Rainbow Stripe Crochet Blanket Pattern