The Susannah block is number 10 in our Sew Along and number 94 in the book – yes, we're jumping around a lot! It uses very similar cutting and construction to the Katherine block which I shared the other day but I like this one much more than that one. I'm much happier with my colour placement. Perhaps it is the red and aqua together that I really like?
In any case, I once again used the Marti Michell templates for this one and some careful seam pressing to get the points matching. I talked about pressing seams in my Betty block post so I won't cover it again here.
Tips for this Block
I do think these blocks take a some careful cutting, careful sewing and careful pressing to get the best results. I'm trying to only make a couple at a time and take my time with them in the hopes of the best results.
So my tip today is take your time.
It may feel when you look in the Facebook group that everyone has made all the released blocks and is way ahead of you, but I assure you this is not the case. I'm about 2 weeks behind – although I made sure my Jenny block tutorial was on time for the group – and I'm taking it slowly. There are some ladies commenting yesterday that they have only just received their books in the mail and have not even started yet. The group is growing all the time and people are still joining the Sew Along so don't feel pressure to get all the blocks up to date. It is OK to take your time and I'm finding that my piecing is much more accurate when I don't hurry.
Tutorials for this Block:
Don't miss out on a special discount at Fat Quarter Shop, and if you're still looking for a copy of the book, a digital book is now available that you can download immediately. Find it here: Farmer's Wife 1930s Sampler Quilt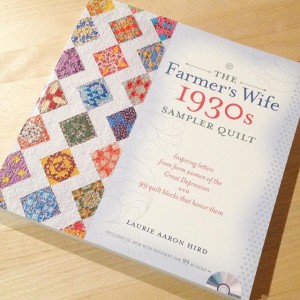 eBook also available: Farmer's Wife 1930s Sampler Quilt